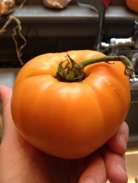 As a result of planting over 30 tomato plants this spring, even after giving a bunch away, we've got boatloads of ripe tomatoes. I've already made buckets of tomato sauce and sun dried tomatoes, so lately I've been making an easy tomato pizza.
One of my favorite tomatoes of late is the Persimmon. It's orange as you'd expect and super juicy and sweet. So, here's what to do. Cut it up, set it aside. Put some peeled garlic in a covered baking dish and roast it in olive oil for about 20 minutes or until it's all smooshy when poked with a knife. I like a lot of garlic, so I roasted about 5 cloves. Put some hot peppers in there too if you like a little heat. Spread that goodness on a piece of naan. If it's garlic naan, good for you, you're a garlic-head, just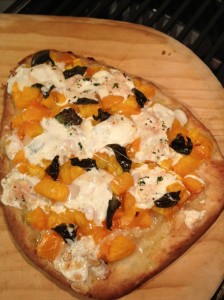 like me.
At this point, dump your cut up tomato on top of the garlic covered naan and spread it around evenly. Add some basil leaves and some cheese. I used marinated mozzarella from Costco (I think the brand is Formaggio). Bake it for about 8 minutes at 400 degrees fahrenheit or until the cheese just starts to get a bit brown – that will ensure that the naan is crispy enough.
And there you have it. A super yummy way to get rid of a tomato (or more… depending).